Rabbi Shoshan
Rabbi Ariel Shoshan
Click HERE to read the June 2016 Hamodia cover article
about Rabbi Shoshan and Ahavas Torah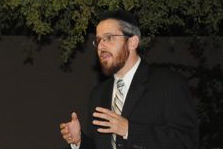 Rabbi Ariel Shoshan is the founding rabbi of Ahavas Torah: The Scottsdale Torah Center. He serves as a part-time rebbe at both Yeshiva High School of Arizona and Torah Day School of Phoenix, as rabbinic director of Valley Eruv Project, and as rabbinic advisor of Ezras Cholim of Phoenix.
A descendant of a well-known Vishnitzer family and raised in Chicago, Rabbi Shoshan was profoundly influenced by his rebbe, Rabbi Meyer Juzint zt"l. After studying for two years in Yeshivat Hakotel, Rabbi Shoshan learned in Baltimore's Ner Israel Rabbinical College from 1995 through 2002. While in Baltimore, he achieved close relationships with many of his rabbeim, most importantly the Rosh HaYeshiva Rabbi Yaakov Weinberg zt"l, and ybl"c Rabbi Yissocher Frand and Rabbi Tzvi Berkowitz shlita.
He received semicha from Ner Israel and holds a bachelor's degree in economics from the University of Maryland Baltimore County. Rabbi Shoshan served as the director of the Phoenix Community Kollel from 2002 through 2007 and founded Ahavas Torah, together with his wife Ayala and 13 other families, in late 2004.
As the heart and soul of our community, the rabbi's professional, passionate, and spirited approach has been shaped by his Chassidic roots, his upbringing in a warm American shul-based community, and his education from leading gedolei Torah in the Lithuanian Yeshiva world. This unusual mixture is recognizable in his stirring tefillos, his meaningful, scholarly and articulate drashos and shiurim, and his care for each and every member and member family.
Rabbi Shoshan is a member of the Conference of Synagogue Rabbonim of Agudath Israel of America, and works closely with the leadership of Torah Umesorah: National Society for Hebrew Day Schools. In addition to his current classes at Yeshiva High School and Torah Day School, he has taught extensively for Shearim Torah High School for Girls and JAC: Jewish Arizonans on Campus. A sought-after speaker, he is a regular lecturer by video-conference for Ner L'Elef Rabbinic Training Program in Jerusalem, and has been a guest speaker in communities and campuses across the country and beyond. Rabbi Shoshan also proudly serves the greater community as a volunteer chaplain for the Scottsdale Police Department and the United States Secret Service.
Mrs. Ayala Shoshan was raised in Atlanta in the home of her illustrious parents Rabbi Ilan D. & Mrs. Miriam Feldman. She brings a lifetime of community-building experience to her role in Scottsdale, having intimately learned from her revered grandparents Rabbi Yaakov & Rebbetzin Chana Weinberg zt"l and ybl"c Rabbi Emanuel & Rebbetzin Estelle Feldman sheyichyu. While raising their children, Ayala organizes the shul's women's programming and chesed activities for families in need, teaches parenting and healthy living habits, and is a trusted mentor to the community.
Thu, August 16 2018
5 Elul 5778
Use of the Internet includes both spiritual and social dangers. Consult with your Rabbi and friends about what computer, handheld device, filter and/or accountability software is best for the adults and children in your family.
The Eruv is up.
Updated for Shabbos August 10 - 11
For Eruv Details:
Website: arizonaeruv.org
Email: info@arizonaeruv.org
Hotline: (480) 630-9596
Upcoming Shabbos Times
Shabbos ​Shoftim
August 12 - August 18
Erev Shabbos Mincha 6:50 PM
Candle Lighting 6:53 PM
Sunset 7:11 PM
Shacharis 8:30 AM
Shema 9:11 AM
Daf Yomi 5:30 PM
Rabbi's Shiur 6:00 PM
Mincha 6:30 PM
Maariv & Havdala 7:53 PM
Rabeinu Tam 8:23 PM
Zmanim in Scottsdale
Alos Hashachar
4:31a
Earliest Tallis
5:00a
Netz (Sunrise)
5:50a
Latest Shema
9:11a
Zman Tefillah
10:18a
Chatzos (Midday)
12:32p
Mincha Gedola
1:05p
Mincha Ketana
4:26p
Plag HaMincha
5:49p
Shkiah (Sunset)
7:13p
Tzais Hakochavim
7:52p
More >>
Ahavas Torah:
The Scottsdale Torah Center
13402 N Scottsdale Rd #B140-150
Scottsdale, Arizona 85254
Phone 480-467-4593
Email office@ahavastorah.org
This website has been enhanced through artistic contributions of Jacky Sebag and Gershon Fiedler.
Thu, August 16 2018 5 Elul 5778