Learning Schedule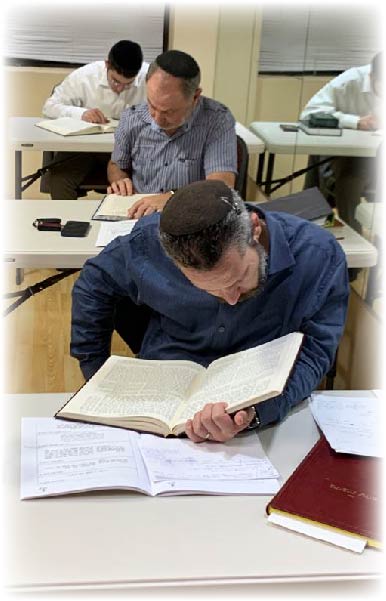 Daily Shiurim
Daf Yomi Morning Shiur
with R' Chaim Zimmerman
always meets one hour before early Shacharis
Mon-Fri - 5:30 AM (5:15 AM in Summer)
Shabbos 7:30 AM (7:15 AM in Summer)
Sundays 7:00 AM
Halacha of the Day
with R' Chaim Zimmerman
weekdays after the 6:30 AM Shacharis
with Rabbi Avraham Aboulafia
weekdays after the 7:30 AM Shacharis
Halacha Chabura
with Rabbi Avraham Aboulafia
Sundays at 7:20 AM
Mon-Fri at 6:50 AM
Topics in Halacha
with Rabbi Shalom Zagelbaum
Mon-Thurs at 1:05 PM
Shoneh Halachos
with Rabbi Noach Muroff
Daily between Mincha & Maariv
Daf Yomi Evening Shiur
with Rabbi Shalom Zagelbaum
Sun-Thurs - meets after the late Maariv
(approx. 9:25 pm at Shul)
Leil Shabbos and Motzai Shabbos
meets approx. 9:30 pm at private home
(
Email
for address)
Weekday Shiurim
Semichas Chaver Program for Men
with Rabbi Shoshan
Mondays at 7:30 PM
Partners-in-Torah
with Rabbi Shalom Zagelbaum & Mrs. Robin Meyerson
for men and women
Mondays at 7:30 PM
Gemara Brachos
with Rabbi Noach Muroff
Tuesdays at 8:15 PM (by Zoom)
Leil Shishi Chabura
with Rabbi Avraham Aboulafia
Thursdays at 6:30 PM at a private home
(
Email
for address)
Thursday Night "Shabbos Drasha"
with Rabbi Ariel Shoshan
Thursdays at 7:30 PM (by Zoom)
---
Shabbos Shiurim
Dvar Halacha
by Rabbi Muroff
Friday night between Kabbalas Shabbos & Maariv
Rabbi Philip Herbert Schechter
Daf Yomi
with R' Chaim Zimmerman
One hour before Shacharis
Nesivos Shalom
Parsha-based thought of the late Slonimer Rebbe
with Rabbi Shoshan
Shabbos mornings at 8:00 AM
(7:45 AM in Summer)
Shabbos Drasha
with Rabbi Shoshan
Before Mussaf
R' Hirsch Shiur
with Rabbi Shoshan
30 min. before Shabbos Mincha
For men & women
Shalosh Seudos Drasha
with Rabbi Shoshan
After Mincha
---
Daily Shiurim
Daf Yomi
with Rabbi Elimelech Adler
Monday - Friday 5:40 - 6:25 AM
Sunday 7:15 - 8:00 AM

Laws of Tefila (Davening)
with Rabbi Glazer
Daily after Shacharis
Kitzur Shulchan Aruch
with Rabbi Glazer
Monday - Friday for 20 minutes
Sefer HaChinuch: One Mitzvah A Day
with Rabbi Shoshan
Daily between Mincha & Maariv
Women's Halacha Shiur
The Shabbos Kitchen
with Rabbi Shalom Zagelbaum
Tuesdays at 9:00 AM
---
Boys' Learning
Mishna Club for Boys
with Rabbi Noach Muroff
Shabbos afternoons -
30 minutes before Mincha
Hilchos Tefilin for
Middle School Boys
with Rabbi Shalom Zagelbaum
Mondays at 8:00 AM
---

One-on-One Learning

Speak to Rabbi Shoshan
or to any of our rabbis.
Wed, November 30 2022
6 Kislev 5783
Use of the Internet includes both spiritual and social dangers. Consult with your Rabbi and friends about what computer, handheld device, filter and/or accountability software is best for the adults and children in your family.

The Technology Awareness Group (TAG) can be a further source of assistance. Contact Rabbi Tesser at the Arizona TAG office at 480.369.5988 (no texts please).
Upcoming Shabbos Times
Friday, Nov 25th

Mincha

5:00 PM

Candles

5:02 PM

Sunset

5:20 PM

Rabbi Moshe Hauer
Dessert Discussion
"Where is Orthodoxy Headed?"
at Private Home

9:00 PM

Shabbos, Nov 26th

Nesivos Shalom

8:00 AM

Shacharis

8:30 AM

Latest Shema (M"A)

9:03 AM

Latest Shema (Gr"a)

9:42 AM

Shabbos Groups for Kids

9:30 AM

Rabbi Moshe Hauer
"A Vision for our Community"

11:05 AM

Rebbetzin Hauer
Women's Shiur on Chinuch
at Private Home

3:00 PM

Rabbi Moshe Hauer
כי מציון תצא תורה
"Our Connection to Eretz Yisrael"

4:00 PM

Daily Chabura

4:00 PM

Rav Hirsch

on break

Mishna Club for Boys

on break

Mincha/Shalosh Seudos

4:40 PM

Maariv/Havdala

6:02 PM

R. Tam

6:32 PM

Dor L'Dor

7:15 PM
Zmanim in Scottsdale
Alos Hashachar
5:55am
Earliest Tallis
6:23am
Netz (Sunrise)
7:13am
Latest Shema
9:44am
Zman Tefillah
10:35am
Chatzos (Midday)
12:16pm
Mincha Gedola
12:42pm
Mincha Ketana
3:13pm
Plag HaMincha
4:16pm
Shkiah (Sunset)
5:20pm
Tzais Hakochavim
6:00pm
More >>
Ahavas Torah:
The Scottsdale Torah Center
13402 N Scottsdale Rd #B140-150
Scottsdale, Arizona 85254
Phone 480.467.4593
Email office@ahavastorah.org
Wed, November 30 2022 6 Kislev 5783